Join us December 15th, 2018 by remembering our fallen Veterans at Christmas Time and support a great cause. Most of us have Veterans in our families. This is a beautiful way to honor our heros. Below is one of my heroes; Lino J. Franchi, my second father, who served on the front line in France during WWII. My other heroes include my daughter, Joanne and her husband, Ty; both Army Strong and both served in Iraq. Every soldier is a hero to me, which is why License Exam Services, LLC and eFingerPrints.org supports this great charity!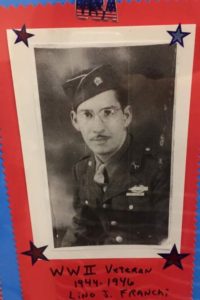 REMEMBER our fallen U.S. veterans.
HONOR those who serve.
TEACH your children the value of freedom.
Each December on National Wreaths Across America Day, the WWA's mission to Remember, Honor and Teach is carried out by coordinating wreath-laying ceremonies at Arlington National Cemetery, as well as at more than 1,400 additional locations in all 50 U.S. states, at sea and abroad. Join by sponsoring a veterans' wreath at a cemetery near you, volunteering or donating to a local fundraising group.
WREATHSACROSSAMERICA.ORG