It is now 2015 and Florida Corporations and Limited Liability Companies will be required to renew their Annual Reports with the Florida Division of Corporations.  Annual Reports are required to be filed before May 1st, 2015 to avoid a $400 penalty.  The State of Florida DOC sends out notification emails that many contractors either disregard as spam, or the emails do not get through to the mail server.
This year, the Secretary of State is sending out a postcard (see picture below) to remind you of the Annual Report.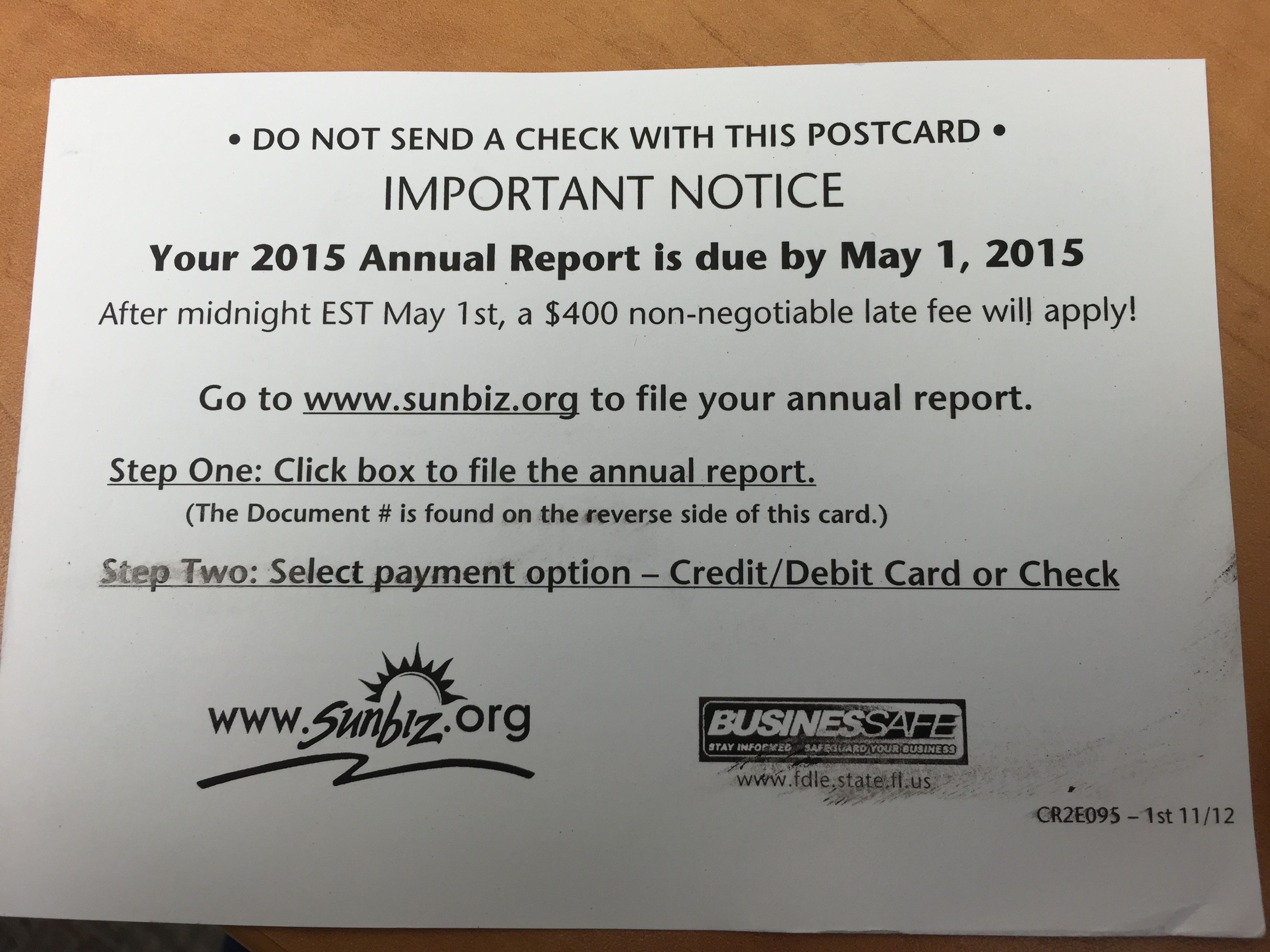 Every year, we check your filing as a courtesy; we find that often our clients did not get their renewal or overlooked it.  We do not want to see you have any issues with your Contractor's license that you worked so hard to obtain!
Will this affect my contractor's license?  In most cases, Yes; your active license is tied to your corporation or LLC unless you hold your license as an individual.
What if I file my Annual Report late?  The Florida Division of Corporations will assess a $400 penalty in addition to the Annual Report Fee.
How much does it cost to file my company's Annual Report?  The Annual Report for a Corporation is $150; the Annual Report fee for LLCs is $138.75.  The annual report can be filed starting January 2nd, 2015.  To file, please visit www.sunbiz.org.  You will need to first search for your business entity and obtain the Document Number before you can renew.  If you do not like using the Internet, we can file your annual report for you for an additional $20 (plus the Annual Report fee).
TIPS:  If you need to change the company's address or add/remove officers or members, this is the time to do it.  You can make any necessary changes without incurring any additional charges.
Have a wonderful and prosperous 2015!